Sonnenberg
Hotel - Restaurant - Schwellbrunn
Biological medicine by Dr.Rau meets delicious, plant-based cuisine by tibits.
Sonnenberg - A place for your overall wellbeing.
tibits has made vegetarian and vegan nutrition socially acceptable in Switzerland and played a major role in ensuring that enjoyment and a plant-based diet do not mean a contradiction. This philosophy is now being further developed at the beautiful Sonnenberg in Schwellbrunn by combining health and enjoyment. All delicacies are offered purely plant-based and in organic quality, freshly cooked on site with the best ingredients.
In addition to the medical area with numerous therapies and three medical practices, you will find a hotel with 16 double rooms as well as a restaurant with a beautiful terrace.
The location
The former "Kurhaus" is located in the elevated Schwellbrunn, the most beautiful village in Switzerland (2017) and offers a breathtaking view over the mountains. Schwellbrunn is located on the former textile road from St. Gallen to Paris. From 1880, the village developed into a climatic health resort. Thanks to its quiet location, Schwellbrunn was increasingly appreciated as a place to live in the last quarter of the 20th century.
Your contact
Jeff Höseler | Host
Sonnenberg Health Hotel & Restaurant
Phone: +41 71 353 36 00
Stylish comfort, homely atmosphere, cozy design.
A place to breathe awaits you in the generously sized rooms of our Sonnenberg Health Hotel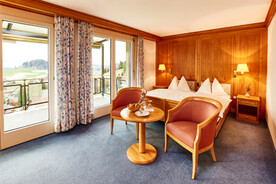 Talblick DZ
Spacious, bright double room

Double bed 2*90cm (opt. extra bed)

View into the Schwellbrunn valley

Large balcony

TV

Shower



from CHF 160.- / night / person
plus TAX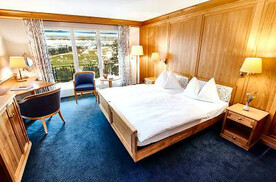 Säntis Blick DZ
Spacious, bright double room
Double bed 2*90cm
Large balcony
Wonderful view to the Säntis
TV
Shower
from CHF 160.- / night / person
plus TAX
Säntis Blick Eckzimmer
Spacious, bright corner room

Large balcony

Fantastic view of the Säntis

Double bed or queen size bed

TV

Bathtub
from CHF 170.- / night / person
plus TAX